How to Grow Electrical Businesses Through Digital Marketing
Home services marketing | March 31, 2023 | Oluwadunmola Adefioye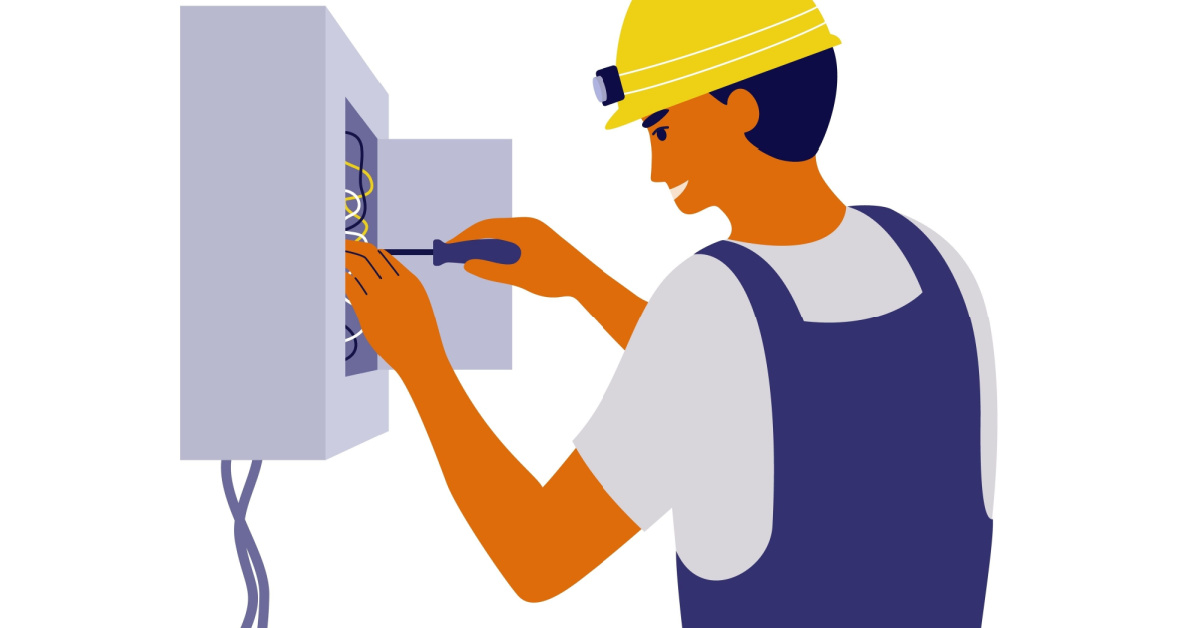 As an electrician looking to grow their business, customer acquisition should be your priority. Customer acquisition, of course, is only achievable with a blossoming marketing strategy. And to pull off any successful electrical business marketing in 2023, no doubt, you'd have to utilize the best digital marketing channels possible. 
However, when digital marketing isn't done right, business owners are often frustrated with little to no results for their marketing efforts. So, it's not enough to embrace online marketing; you also need to figure out the best marketing channels and messaging formats for positive returns on your electrical marketing efforts.
Not to worry. In this piece, I have pooled together my working knowledge of marketing for electrician companies. I'll discuss actional digital marketing tips to show you specifically how to grow electrical businesses.
Practical strategies on how to grow electrical businesses
Before I go into company growth strategies that work in the electrical industry, it's important to note that these strategies are best seen as distinct parts of a whole. This means they all work better when used together. What's important is that you learn to iterate your marketing efforts; this is the fundamental principle in learning how to grow electrical businesses. 
Again, you can use any digital marketing channel for your electrician business. If you want to have a bird's-eye-view of all the marketing channels that could work for home services, you can check out our overall guide on home services marketing campaigns.
Now, let's review the most effective strategies for your electrical contracting business.
According to DemandSage, paid digital ads can increase a brand's awareness by 80%. Furthermore, paid advertisement helps you target specific demographics, allowing you to manage your electrician digital marketing budget efficiently. This becomes easier if you have a model customer in mind. Ultimately, you can measure the performance of your ads, allowing you to adjust to the market's needs. One such tool is Google Analytics.
Paid ads mainly comprise search ads (Google, Bing, Yahoo, Baidu), display ads (as seen on news sites, blogs, and apps), and social media ads. Paid advertisements are also categorized into pay-per-click (PPC) and cost-per-mille (CPM).
These ads appear on search engines, responding to queries. With Google having a 92% market share, investing in Google ads is a no-brainer. If you want marketing that translates directly into leads, Google ads also have the local search ads (LSA) option. LSAs display your contact info, allowing people to get a quote without visiting your site. 
On the other hand, Bing and Yahoo can also pull their weight with your search ads online advertising.
Display ads are perfect for brand awareness and building an online presence as they are a "push in your face" form of advertisement. They are ads associated with the Google display network that appear on sites and mobile applications instead of search engines. With display ads, your brand awareness doesn't depend on search engine queries but on the ad display network. Based on a report by SERP watch, people exposed to display ads are 155% more likely to search for specific brands.
Social media ads are as effective as search and display ads for electrical marketing agencies. Their effectiveness in marketing your electrical services on social media platforms depends on your target audience. Interestingly, Facebook has a better clickthrough rate (CTR) than Google ads. It's no wonder social media marketing is on the rise. Other social platforms like Instagram, Youtube, Twitter, Linkedin, TikTok, e.t.c. can also serve as a channel for paid advertisements.
The next step in learning how to grow electrical businesses is producing content suitable for organic searches. Contents can be in the form of videos, images, webinars, blogs, etc. The goal is to provide helpful information for people. Your site is given priority on search engines, increasing your brand awareness.
With the amount of information uploaded on the internet daily, you can be sure that competition for brand visibility is high. To attain the first search engine result page (SERP) page, you must use search engine optimization to increase your chances. Optimizing your content for search engines requires knowing SEO strategies, which may take some time and sometimes best left to electrician marketing companies. While the effect of SEO content on your company's brand awareness takes time to show, it lasts longer than paid advertising.
Like paid ads, you can also use social media to promote your content. This requires a social media presence through accounts dedicated to promoting your business. 
Repurpose your top-performing content
Suppose you have a valuable piece of content that your electrical service website is ranking for. In that case, you should repurpose this content into other formats to engage a larger audience, including prospective clients. 
Let's say one of your blog posts attracts more site visitors than the others; its content can be made into video snippets, webinars, ebooks, etc., to capture more audiences and increase brand awareness. You can read our home services brand awareness article for more insight into business branding. 
Email marketing differs from other marketing forms because you need to have generated leads to run an email marketing campaign. It is an efficient mode to update leads and customers on offers and new services you have as electrical contractors. Email marketing is perfect for small and medium-scale businesses, as a survey by Campaign Monitor shows that email marketing produces the highest ROI for small businesses.
Business listings allow you to list your business name, address, and contact details. The popular ones are Google My Business, Facebook business page, Yelp, and Yellow pages. Business listings are compelling because they bring potential customers ready to engage your electrician marketing agency, especially in your locale.
Another advantage to using this marketing channel is visibility on search engines, with increased patronization and positive reviews.
They say a good product market itself. This comes in the form of online reviews and referrals. It will interest you that 93% of people read online reviews before purchasing. While this is true, one thing many customers complain about is customer service rather than service quality. Excellent customer experience consists of quality service and customer relations. The quality of your service should be a marketing channel. 
Generating referrals also goes beyond relying on word of mouth through your customer base. You could also develop affiliate or referral programs encouraging people to bring in more ideal customers for certain bonuses and rewards.  
Here is how we grow electrical businesses at Klutch Growth
Learning how to grow electrical businesses is one thing; implementing and consolidating your marketing strategies is another. After all, marketing can only bring potential customers. You have to make them into paying customers. Before implementing these electrical marketing plans, optimizing your platform for good conversion is advised. Here are some crucial parts of your website you should work on. 
A landing page is a page visitors 'land' on your website after clicking through your ads, emails, etc. Since it is your site's first impression, it must be impeccable. Same as your website. Well-arranged, simple, attractive web designs are crucial to making visitors into leads. This is backed up by websites with good user experience getting a 400% higher conversion rate. 
Call-to-action (CTA) dictates the following step potential clients should take to reach the next step of their buyer journey. Your CTAs should be obvious, pointing to the next phase you want your customer to move. You can take it one step further by using personalized CTAs. These CTAs cater to the peculiarity of the site visitor, whether they are customers or leads.
Localizing your website is designed to suit your site visitor's locality. Language and time zones are two examples of localizing your website. Let people feel at home when browsing through your sites.
With 92% of internet users accessing the internet from their phones, many of your site visitors are accessing it through their mobile phones. However, if the site is not optimized for mobile, the bounce rate on your site will be high. Optimizing your site for phones means you can retain an interest in people enough to get a quote.
If you are trying to satisfy your customers, you must listen to and implement feedback. Addressing customer pain points makes them know you value their patronage and also helps you improve your site's user experience.
FAQs
How can I improve my electrician marketing agency's SERP rankings?
You need to optimize your site content and website for search engines to increase your chances of ranking on SERP. On-page SEO (meta, HTML, headers, etc.) and off-page SEO (link building, guest posts, and social media marketing) are two aspects you must work on to improve your SERP rankings. 
Which digital marketing strategy is the best for a new electrical business?
Starting with paid advertisements, content marketing, and business listings as marketing strategies are best for a new electrical company. While paid ads market your home care electrician services, content improves your site rankings, helping you be more visible in the long run.  Consulting digital marketing experts at this stage of your company can help you save time and resources.
How much will digital marketing for my electrical services cost?
Running an electrician digital marketing campaign for your electrical business can cost between $500 to thousands of dollars in ad spend. It's all about how wide you want your online marketing campaign. Combining content marketing, influencer marketing, and Google ads can cost your marketing campaign thousands.
Conclusion
Home improvement businesses, especially electrical companies, need a holistic digital marketing strategy to drive considerable business growth in the number of customers and revenue. And that involves a multi-channel and multi-format approach.
You must be okay with using organic marketing strategies alongside paid ads, email marketing, and business listings. These would improve your brand awareness and drive leads consistently through your sales funnel. 
Remember that internet marketing is one-half of the journey, and you must work on converting your potential leads into customers. Working on your website user experience, nurturing your leads, and optimizing for mobile are ways to ensure your site visitors ultimately convert into paying customers. An integral part of this process is having a solid sales process to help crown your marketing efforts with conversions.
I enjoy writing engaging and practical articles that help local businesses grow. That's why I take my time to understand the industry - customers and businesses - before writing a word.
Aside from content marketing, I enjoy watching football and love my beloved Arsenal FC.